College Football = Big Business
College sports has become Very Big Business. Texas, Florida, Georgia, Michigan, and Penn State each earn between $40 million and $70 million in profits a year, even after paying coaches multimillion-dollar salaries.
In most years, rights fees have accounted for about 85 percent of all NCAA revenue. In 2009-10, the media agreements constituted 86 percent of NCAA revenue. Most of the remaining 14 percent in 2009-10 came from championships (mostly ticket sales).
Overall annual revenue for college athletics programs was estimated for 2008-09 at about $10.6 billion. That includes about $5.6 billion in generated revenues, which is income from ticket sales, radio and television receipts, alumni contributions, guarantees, royalties and NCAA distributions. The remainder of the revenue is considered allocated revenue, which comes from student fees directly allocated to athletics, direct and indirect institutional support, and direct government support.
If the BCS bowl system was changed to a playoff system to determine the national champion ,the income for College Football would increase significantly.
Institution Name
State
Conference
Football Expenses
Game Day Expenses

Expenses Per

Football Player

Football Revenue
University of Texas
TX
Big 12
$24,507,352
$5,006,302
$42,789
$95,749,684
University of Alabama
AL
SEC
$31,580,059
$5,465,353
$39,604
$76,801,800
Auburn University
AL
SEC
$39,069,676
$5,869,088
$48,909
$76,227,804
University of Georgia
GA
SEC
$22,036,338
$5,230,608
$42,874
$74,888,175
University of Florida
FL
SEC
$26,263,539
$6,004,524
$50,458
$72,807,236
Penn State University
PA
Big Ten
$19,519,288
$2,843,997
$23,504
$72,747,734
University of Michigan
MI
Big Ten
$23,552,233
$4,447,419
$36,756
$70,300,676
University of Notre Dame
IN
Independent
$25,164,887
$5,357,794
$51,027
$68,782,560
Louisiana State University
LA
SEC
$21,492,741
$2,893,395
$21,755
$68,510,141
University of Arkansas
AR
SEC
$24,059,193
$7,218,427
$56,838
$61,131,707
Ohio State University
OH
Big Ten
$34,373,844
$8,732,832
$84,785
$60,837,342
University of Oklahoma
OK
Big 12
$23,191,402
$6,088,817
$52,946
$58,811,324
University of Tennessee
TN
SEC
$19,135,650
$3,391,478
$28,029
$56,831,514
University of Nebraska
NE
Big Ten
$20,147,302
$3,593,334
$21,517
$54,712,406
University of South Carolina
SC
SEC
$22,482,479
$1,907,839
$17,188
$45,464,058
Texas A&M University
TX
SEC
$15,560,216
$2,756,007
$22,590
$45,414,074
Michigan State University
MI
Big Ten
$17,420,499
$4,006,052
$35,452
$45,040,778
University of Iowa
IA
Big Ten
$20,510,807
$4,366,794
$34,657
$44,506,832
University of Wisconsin
WI
Big Ten
$23,662,925
$4,818,070
$45,029
$43,296,599
University of Washington
WA
Pac-12
$21,306,380
$6,748,106
$60,794
$39,405,237
Florida State University
FL
ACC
$18,689,809
$5,432,700
$46,834
$35,870,789
Virginia Tech
VA
ACC
$20,009,657
$4,072,861
$29,948
$35,083,799
University of Kentucky
KY
SEC
$14,352,110
$1,879,993
$14,461
$34,020,276
Oklahoma State University
OK
Big 12
$13,787,271
$2,125,726
$15,746
$33,213,396
Clemson University
SC
ACC
$17,992,943
$5,255,017
$46,505
$31,730,042
Highest Paid College Coaches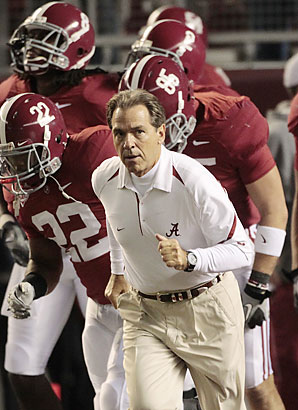 #1: Nick Saban – (Alabama) $5.62 million
#2: Mack Brown (Texas) $5.2 million
#3: Bob Stoops (Oklahoma) $4.5 million
#4: Urban Meyer (Ohio State) $4 million
#5: Les Miles (LSU) $3.8 Million
#6: Kirk Ferentz (University of Iowa) $3.78 Million
#7: Bobby Petrino (Arkansas) $3.6 Million
#8: Gene Chizik (Auburn) $3.5 Million
#9: Brady Hoke (University of Michigan) $3.23 Million
#10: Will Muschamp (University of Florida) $3.2 Million
#11: Jim Grobe (Wake Forest) $3 Million
#12: Mark Richt (University of Georgia) $2.9 Million
#13: Steve Spurrier (University of South Carolina) $2.8 Million
#14: Chip Kelly (University of Oregon) $2.8 Million
#15: Bo Pelini (University of Nebraska) $2.775 Million
#16: Houston Nutt (University of Mississippi) $2.771 Million
#17: Jimbo Fisher (Florida State University) $2.75 Million
#18: Gary Pinkel (University of Missouri) $2.7 Million
#19: Bret Bielema (University of Wisconsin-Madison) $2.6 Million
#20: Rich Rodriguez (University of Arizona) $2.5 Million
#21: Dan Mullen (Mississippi State) $2.5 Million
#22: Bret Bielema (Wisconsin) $2.5 Million
#23: Lane Kiffin (University of Southern California) $2.4 Million
#24: Paul Johnson (Georgia Tech) $2.36 Million
#25: Jeff Tedford (California) $2.3 Million
#26: Charlie Strong (Louisville) $2.3 Million
#27: Greg Schiano (Rutgers) $2.3 Million
#28: Derek Dooley (Tennessee) $2.29 Million
#29: Steve Sarkisian (Washington) $2.25 Million
#30: Frank Beamer (Virginia Tech) $2.24 Million
#31: Mike Sherman (Texas A&M) $2.2 Million
#32: June Jones (SMU) $2.14 Million
#33: Mike Gundy (Oklahoma State) $2.1 Million
#34: Turner Gill (Kansas) $2.1 Million
#35: Tommy Tuberville (Texas Tech) $2.06 Million
#36: Randy Edsall (Maryland) $2.01 Million
#37: Gary Patterson (TCU) $2.01 Million
#38: Bill Snyder (Kansas State) $1.92 Million
#39: Mark Dantonio (Michigan State) $1.91 Million
#40: Tom O'Brien (NC State) $930k base + $945k bonus = $1.87 Million
#41: Dabo Swinney (Clemson) $1.84 Million
#42: Mike London (Virginia) $1.79 Million
#43: Ron Zook (Illinois) $1.75 Million
#44: Joker Phillips (Kentucky) $1.7 Million
#45: Jerry Kill (Minnesota) $1.7 Million
#46: Skip Holtz (USF) $1.7 Million
#47: Kyle Whittingham (Utah) $1.7 Million
#48: Art Briles (Baylor) $1.54 Million
#49: Ken Niumatalolo (Navy) $1.53 Million
#50: Chris Petersen (Boise State) $1.52 Million
#51: Dennis Erickson (Arizona State) $1.5 Million
#52: Paul Pasqualoni (Connecticut) $1.5 Million
#53: Dana Holgorsen (West Virginia) $1.49 Million
Credit: PricewaterhouseCoopers LLP, Wilkofsky Gruen Associates,Forbes,ESPN,The Memphis Business Journal, The NFL, The NCAA