Cheerleaders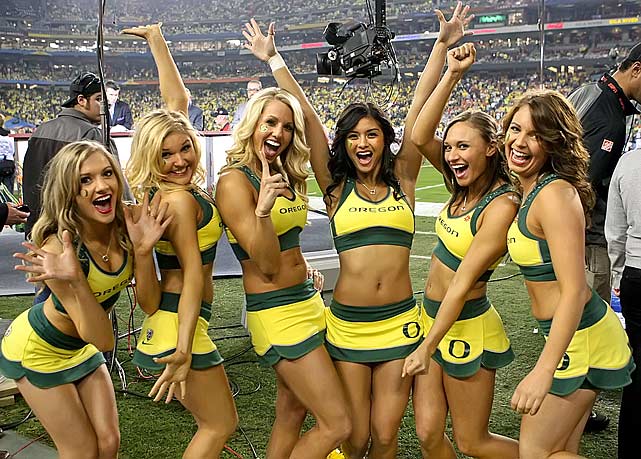 The Official Rules Of Booing -Rule 23-Cheerleaders- Never Ever BOO a Cheerleader, sometimes they are the only ones giving a good performance
Cheerleading is a physical activity, sometimes a competitive sport, based on organized routines, usually ranging from one to three minutes, which contain the components of tumbling, dance, jumps, cheers and stunting to direct spectators of events to cheer on sports teams at games or to participate in competitions. The athlete involved is called a cheerleader.
The first instance of cheerleading, occurred at a college football game in 1869 between Princeton University and host school Rutgers University located in Piscataway, New Jersey.
By the 1880s, Princeton University's American Football sporting game atmosphere led to Princeton's students forming an all-male student "pep club" to lead "cheers" (unified chants and yells) in order to provide support to their team, as well as create a high energy sport environment. Cheers such as "Rah, Rah, Ray! Tiger, Tiger, Sis, Sis, Sis! Boom, Boom, Boom! Aaaaah! Princeton, Princeton, Princeton!" were commonly yelled from the seats of Princeton University's American Football stadium as a method to motivate their team on to victory. The first cheerleaders were mostly if not exclusively men.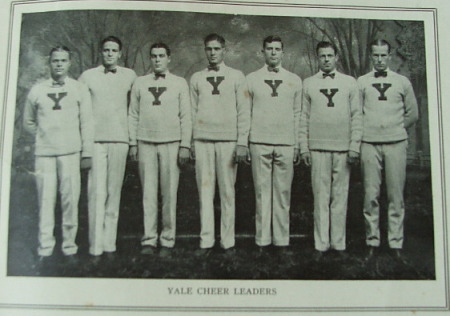 By 1889 stadium pep clubs, cheers, school yells, and even school "fight songs" continued to develop in many schools & universities to inspire their sport fans.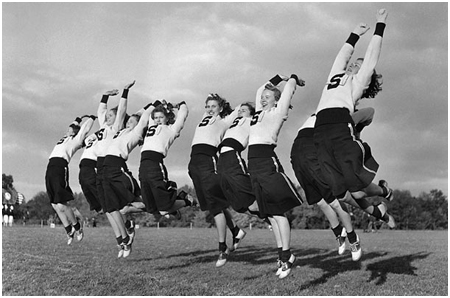 .It wasn't until 1923 that the University of Minnesota introduced the first women cheerleaders at their sporting games.
Then, in the 1930s, universities and high schools began performing pom-pom routines and using paper poms.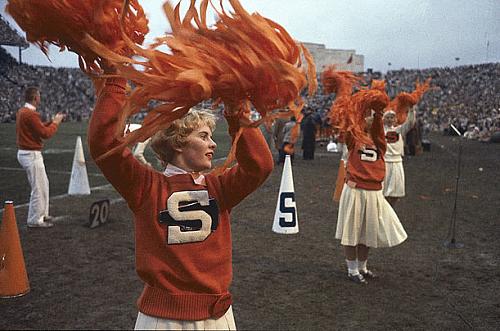 Paper poms were introduced in the 1930's and the modern vinyl pom was invented by Fred Gastoff, around 1965.
.In the early 1940's, when men went to war, women not only went to work, but also on to cheerleading squads. Cheerleading then became more of a female sport.
Today, women comprise of more than 90% of the world's cheerleaders.

NFL Cheerleaders

In 1954 the Baltimore Colts became the first NFL team to have cheerleaders.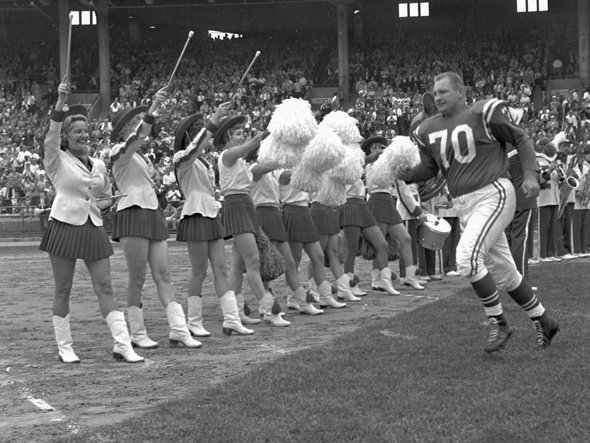 The Redskins Cheerleaders are the longest running cheerleading team in the NFL.On September 30, 1962, 30 talented and beautiful women made their debut as the Redskinettes.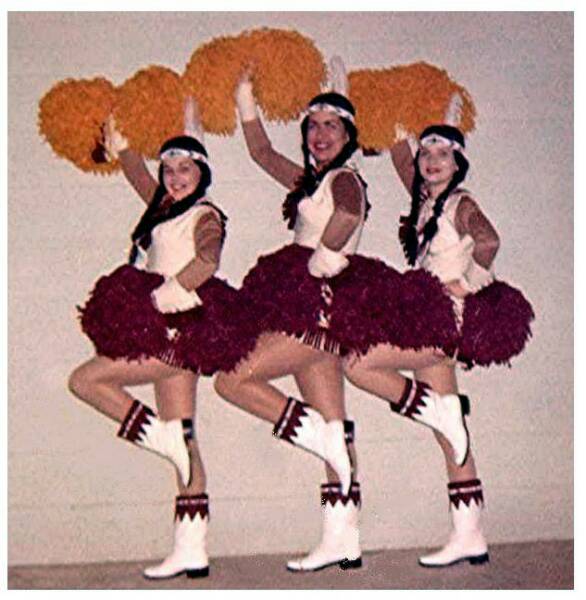 As they marched down the field in their Native American costumes to join the band, they stepped into history and the tradition began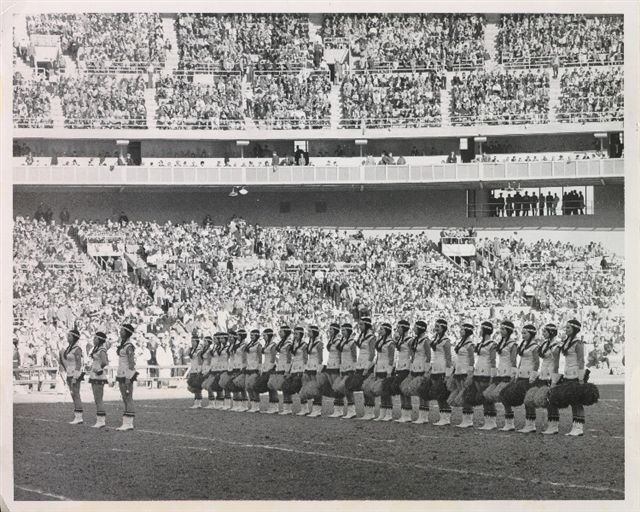 The Dallas Cowboy cheerleading squad was a made up of a male-female group called the CowBelles & Beaux. The group made its sidelines debut in 1960 during the Cowboys' inaugural season.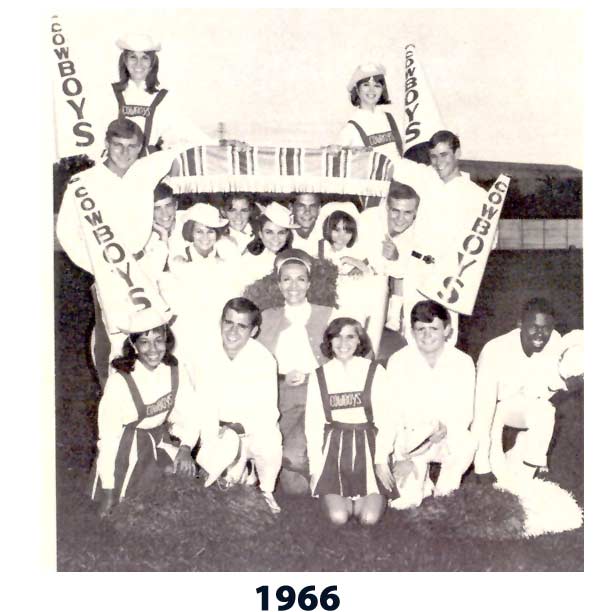 After 1969, it was decided that the cheerleading squad needed a new image and the decision was made to drop the male cheerleaders and select an all female squad from local high school cheerleaders in the Dallas-Fort Worth area. It was at this period that the CowBelles & Beaux became the Dallas Cowboys Cheerleaders.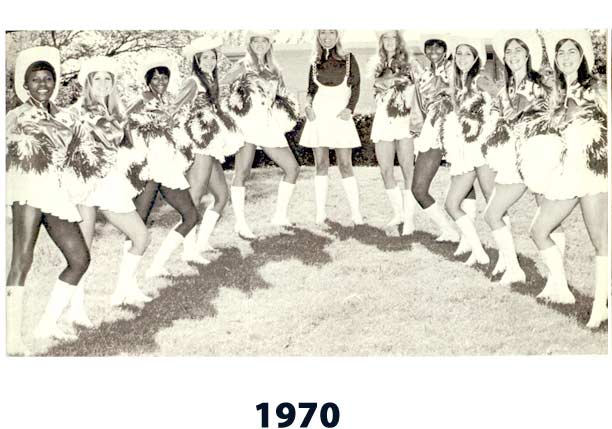 Cheerleading Changes
Then in 1972, Texie Waterman, a New York choreographer, was recruited and charged with auditioning and training an entirely new female squad which would all be over 18 years of age, searching for attractive appearance, athletic ability, and raw talent as performers. Texie also redesigned the uniforms to introduce a more revealing, sexier look.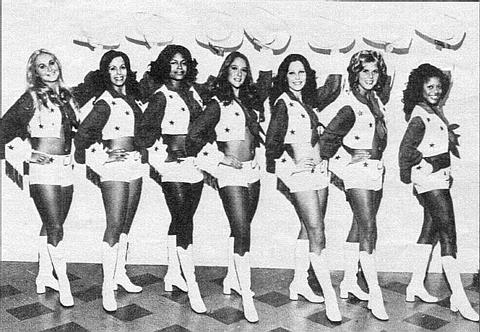 The Dallas Cowboy Cheerleaders became a pop culture phenomena appearing on TV shows and becoming the focus of fans attention. It forever changed how cheerleaders were viewed ,from an after thought to an integral part of the game and marketing of sports.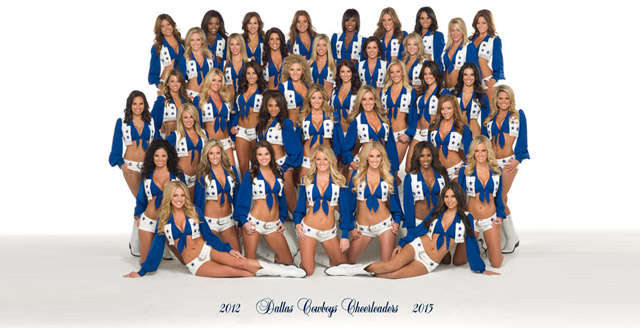 Today cheerleaders have their own calendars, videos and reality shows.
The Science Cheerleaders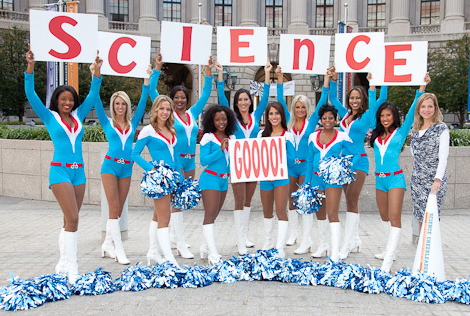 The Science Cheerleaders are professional cheerleaders pursuing science careers who playfully challenge stereotypes, turn everyone onto science by encouraging participation in citizen science activities, and inspire the 3-4 million U.S. cheerleaders to consider careers in science, technology, engineering and math. We do this by recasting the image of scientists and engineers while giving people the opportunity to explore their personal interests as a gateway to science. We communicate in ways that inspire people using our very real, very personal stories. We do this at schools, festivals, malls, on tv, online, at cheer events, games, bars…wherever the people are! The point: science is accessible to ALL!
More than 100 current and former professional cheerleaders from the NFL, NBA, and other pro sports leagues, pursing science and engineering careers make up the Science Cheerleaders. Thousands of college, high school and middle school cheerleaders–with interests in science and engineering–are poised to join The Science Cheerleaders mission.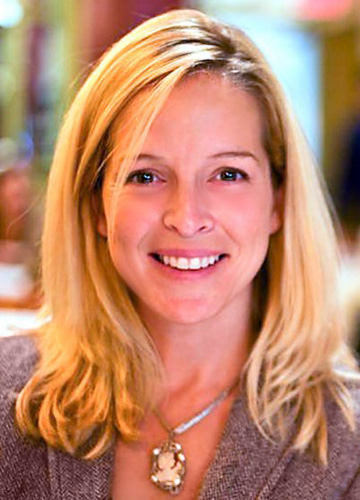 Darlene Cavalier, a former Philadelphia 76ers cheerleader-turned-science advocate, started the blog, Science Cheerleader, in 2006 to spark public engagement in science. Her graduate studies at the University of Pennsylvania exposed her to potential solutions to public apathy in science. As the Science Cheerleader, she wanted to broaden public interest in science, get lay people involved in doing real scientific research, and, as a logical extension, help make it possible for "regular" people to weigh in on science policy matters. In the process, she stumbled upon real science cheerleaders: NFL and NBA cheerleaders pursuing science and engineering careers!
For more Information Click on The Science Cheerleaders Logo


Credit: The Washington Redskins Cheerleaders Alumni Association, Cheerleadingsafety.com, International Cheer Union