The Obsessive Duo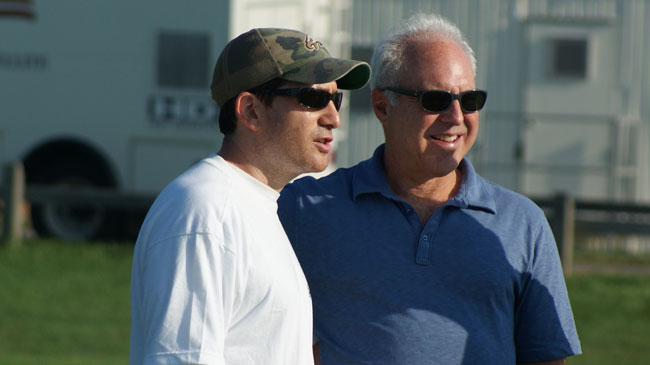 Jeffrey Lurie and Howie Roseman have been totally obsessed with football since childhood. Both sat in their bedrooms conducting fantasy drafts and player moves for years. Lurie wanted to own The New England Patriots and Roseman wanted to be General Manager of The New York Jets. Jeffrey Lurie and Howie Roseman never played in a football game. Both men were supported by their family in their obsession - Jeffrey Lurie and Howie Roseman are now living their childhood fantasy running The Philadelphia Eagles.
The Philadelphia Eagles development and success since Jeff Lurie purchased the team in 1994 has been attributed to Joe Banner, Christina Weiss Lurie and Andy Reid.
Joe Banner played an integral role in transforming the Eagles into one of the most successful and progressive organizations in professional sports, both on and off the field "Joe plays a crucial role in most everything we accomplish. His determination, intelligence and desire for success are invaluable assets to the Philadelphia Eagles," said Eagles chairman Jeffrey Lurie. "He's a great team player, unselfish and wants what's best for the franchise, our fans and our players."
Banner left the team in 2012 and became CEO of the Cleveland Browns.
Christina Weiss Lurie spearheaded the club's efforts to become a leader off the field, as well as on it. Christina was instrumental in the creation and design of Lincoln Financial Field, the club's state-of-the-art stadium and the NovaCare Complex, the club's corporate headquarters and training facility. She was the driving force in the Eagles' involvement in the important causes of breast cancer and environmental awareness.
In 2012, the couple announced that they were divorcing. In August 2012 Jeffrey Lurie and his wife of 20 years, Christina, quietly settled their divorce.
During Andy Reid's 14-year tenure, Reid has compiled the best win total (120), winning percentage (.609) and playoff victory total (10) in team history. He captured six division titles and five trips to the NFC Championship game. During this period, no other franchise earned more divisional playoff round appearances and only Bill Belichick's New England Patriots exceeded Philadelphia's (5) conference championship game appearances with . Reid also sent 19 players to 44 Pro Bowl appearances, the highest total for any team in the NFL during that period.
Andy Reid was "relieved" of his coaching duties on December 31,2001.
The New Coach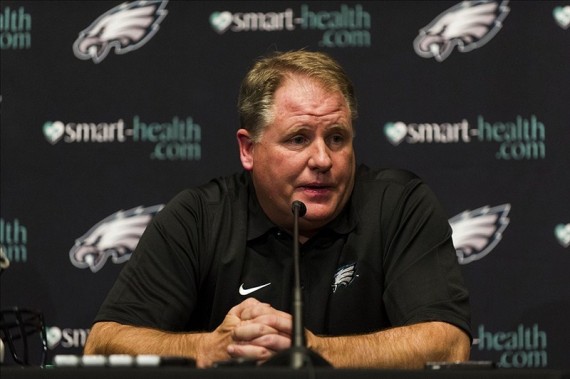 On January 16, 2013 The Philadelphia Eagles hired Chip Kelly to become the head coach. He was the head coach at the University of Oregon. During his four seasons at Oregon, he led the team to three Pac-12 Conference championships and four BCS game appearances. Kelly is a native of New Hampshire, and attended Manchester Central High School and earned his Bachelor of Science in physical education from the University of New Hampshire in 1990. He played quarterback at Manchester Central and defensive back at the University of New Hampshire. He has been in coaching since 1990.
In a statement from Philadelphia Eagles owner Jeffery Lurie announced the Philadelphia Eagles have fired Head Coach Chip Kelly after just three years. Kelly took over a 4-12 team and took the Eagles to the playoffs, but has failed to improve ever since. He was also the defacto General Manager and made trades that many fans and analysts questioned. Kelly was 26-21 in his three seasons in Philadelphia and 0-1 in the playoffs.
After Kelly's dismissal, Roseman became the GM again in 2016, and hired Doug Pederson as the Eagles' new head coach. Roseman helped the Eagles win Super Bowl LII when the team defeated the New England Patriots 41-33 in 2018.
It is a twist of karmic destiny that the Eagles defeated the team Jeff Lurie grew up wartching!
Jeff Lurie gave Philadelphia It's first Super Bowl and should have a statue buit in his honor- he will go down in history as the man who made the dreams of millions come true!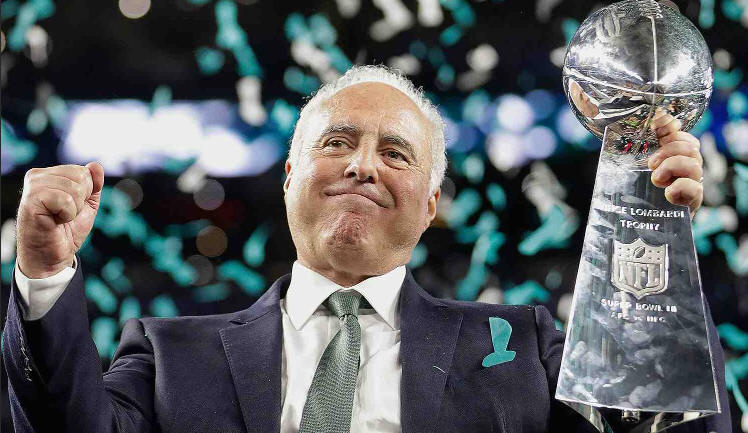 Credit:
http://www.philadelphiaeagles.com
http://www.livinginmedia.com/article/fly_like_an_eagle_howie_roseman.html
http://www.sportsnetworker.com/2012/12/01/sports-job-interview-with-howard-roseman-philadelphia-eagles-gm/
http://www.nypost.com/p/sports/more_sports/young_gm_helping_eagles_shake_up_d290aiKxqbKzya2UVbBhRO
http://articles.philly.com/2010-07-19/sports/24970640_1_howie-roseman-joe-banner-nfl-dream
http://www.cbssports.com/nfl/story/21553122/monday-observations-scrutiny-now-settling-on-shaky-eagles-gm
http://www.nytimes.com/2005/06/19/fashion/weddings/19FRIE.html?_r=0