After the game, Bartman apoligized to fans:"There are few words to describe how awful I feel and what I have experienced within these last twenty-four hours. I am so truly sorry from the bottom of this Cubs fan's broken heart.

I ask that Cub fans everywhere redirect the negative energy that has been vented towards my family, my friends and myself into the usual positive support for our beloved team on their way to being National League champs."
- Steve Bartman


Tne Rainbow Man
Rollen Frederick Stewart , also known as Rock 'n' Rollen and Rainbow Man, was a fixture in American sports culture best known for wearing a rainbow-colored afro-style wig and, later, holding up signs reading "John 3:16" at stadium sporting events around the United States and overseas in the 1970s and 1980s.Stewart was arrested in 1992 after a standoff in a California hotel during which he entered a vacant room with two men he was attempting to kidnap and surprised a maid who then locked herself in the bathroom. Reportedly, Stewart believed that the Rapture was due to arrive in six days. Stewart is currently serving three consecutive life sentences in prison on kidnapping charges.
Günter Parche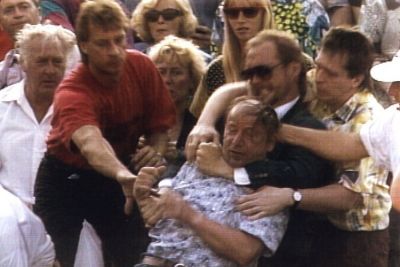 On April 30th 1993 Gunter Parche stabbed professional tennis player Monica Seles in the back during a break at the Citizen Cup in Hamburg, Germany.
While Seles was on the sidelines, the Parche climbed down the stands directly past two security guards. Once on the court, took a boning knife and put it directly in Seles's back, in-between her shoulder blades.She was quickly rushed to a hospital. Although her physical injuries took only a few weeks to heal, she did not return to competitive tennis for more than two years.
The attack happened during the rest break in the match, against Bulgarian player Maggie Maleeva. Miss Seles was leading 6-4, 4-3 when she took a rest on her courtside seat during the changeover.
Parche was an obsessed Steffi Graf fan.By stabbing Seles, Parche hoped to see that his hero Steffi Graf would regain her No. 1 ranking in the world of women's tennis.
Gunter Parche, a 39-year-old unemployed lathe operator, was convicted for the stabbing of Monica Seles in October 1993. He was described as a loner, whose obsession with seeing Steffi Graf regain the world no.1 ranking prompted the attack. He was given a two-year suspended sentence.