NFL Films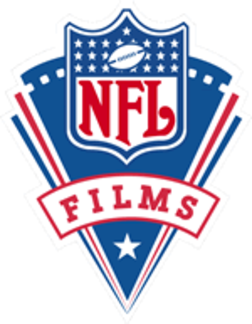 NFL Films revolutionized sports filming. The imaginative visuals, the voice-talent of John Facenda and the music of composer Sam Spence were melded together by Steve Sabol in such a way that the sports documentary was changed forever.
NFL Films advances in filming sports included everything from reverse angle replays to filming pre-game locker room speeches to setting highlights to pop music.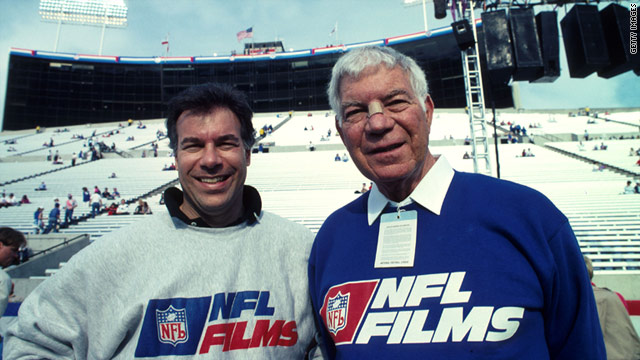 Home games were blacked out before 1973 and Sports Networks,Cable TV and VCRS did not yet exist- NFL Films productions like "This Week in Pro Football" and "The NFL. Game of the Week" these shows were eagerly anticipated by fans and players alike, and the halftime highlights on "Monday Night Football" these shows were eagerly anticipated by fans and players a like. It was the only way to see your team in action from the previous week.
NFL Films has continually adapted to new technology while maintaining its dramatic storytelling technique. The company began producing weekly NFL highlight shows in the late 1960s, introduced the first sports home video in 1980, and today remains at the forefront of the film industry.
Ed Sabol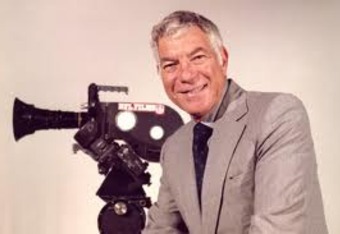 Born: September 11, 1916 in Atlantic City, New Jersey
Ed Sabol is founder and president of NFL Films, Inc. Since 1964, his company has filmed every National Football League game.

A men's clothing salesman, Sabol created the Blair Motion Pictures company in 1962 (named for daughter Blair) and made a successful bid to film the National Football League's Green Bay Packers–New York Giants championship game that year at Yankee Stadium.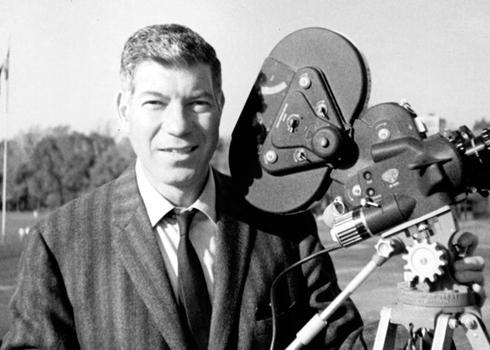 Blair Productions got the rights to film the next year's championship, too, but the company had to go up to $17,000 for the privilege. And right then Sabol said to himself, "Oh-oh. Here it comes. Next year it will be $25,000, and when those hotshot outfits with the inexhaustible bankrolls see what can be done with the film and that it can be marketed, they'll snow us under." So Sabol went to Pete Rozelle, The NFL Commisioner, and said: "Pete, it's time for the NFL to go into the film business. You buy us out and then make your own championship films. You can even do weekly regular-season stuff."
Rozelle immediately saw the merit in the idea. He ran into difficulty with some of the NFL owners when he tried to convince them that a subsidiary company could be rewarding financially as well as artistically, but eventually the word went out that the league would absorb Blair Productions and its staff.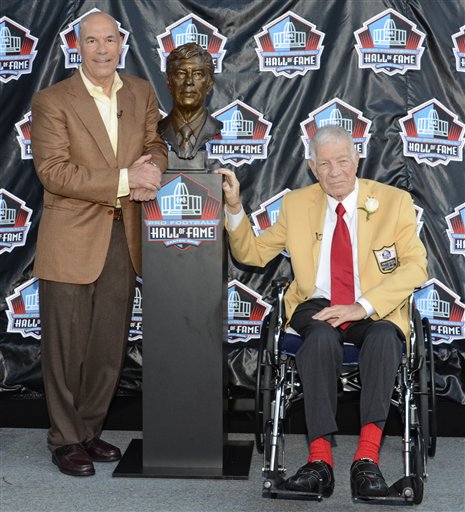 Ed Sabol was elected to the Pro Football Hall of Fame in 2011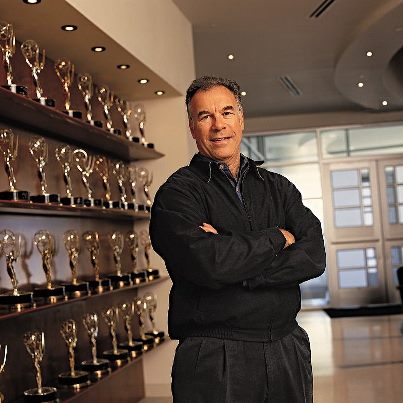 Steve Sabol
President, NFL Films
October 2, 1942 – September 18, 2012
"We see the game as art as much as sport," Steve Sabol told The Associated Press before his father was inducted into the Pro Football Hall of Fame last year. "That helped us nurture not only the game's traditions but to develop its mythology: America's Team, The Catch, The Frozen Tundra."
As president of the most honored filmmaker in sports, Steve Sabol drove the artistic vision behind the studio that revolutionized the way America watches football.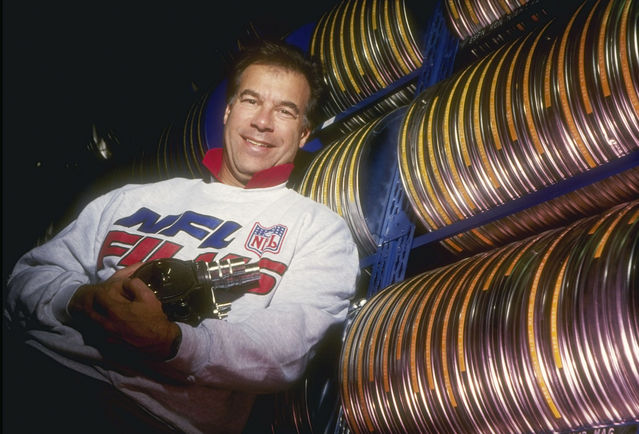 Sabol and his father, Ed, who was elected to the Pro Football Hall of Fame on February 5, 2011, were honored in 2003 with the Lifetime Achievement Emmy from the National Academy of Television Arts and Sciences for "revolutionizing the way America watches football and setting the standard in sports filmmaking." The Emmy was presented by the late Tim Russert, host of Meet the Press.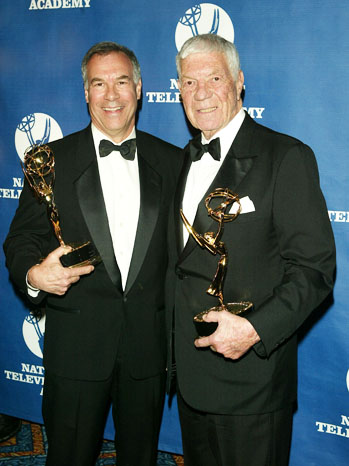 While NFL Films has won more than 100 Emmys, Sabol himself received 35 of those Emmys for writing, cinematography, editing, directing, and producing. No one else in all of television has earned as many Emmys in as many different categories.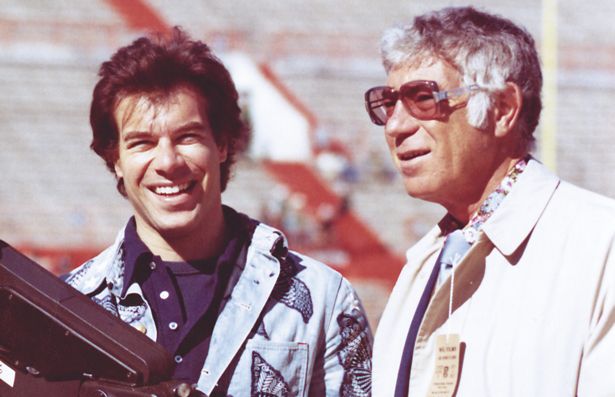 Steve began his career in 1964 as a cinematographer working for his father and founder of NFL Films, Ed Sabol. As an All-Rocky Mountain Conference running back at Colorado College majoring in Art History, as well as an avid movie fan, Steve was, as his father put it, "uniquely qualified to make football movies."
A natural outgrowth of his cinematic vision, Steve was an accomplished collage artist. As President of NFL Films, Steve spent his entire career thinking about football and the positive values the game represents. In the process football became for Steve a prism for looking at American society. Using symbolic imagery from both the sports world and popular culture, Steve created a unique visual language that hearkens to times past and reminds us of the best in ourselves.Steve died of brain cancer at age 69 in Moorestown, N.J.
NFL Films Growth
In 1962, Ed Sabol, founder of Blair Motion Pictures, bid $5,000 for the film rights to the NFL Championship Game.
In 2001, NFL Films opened its 200,000 sq. ft. state-of-the-art film and television production facility.
Employees in 1964: 6
Employees in 2011: 250
Games filmed – 1965 Season: 102
Games filmed – 2007 Season: 267
Total Games Filmed Since 1962: 9,312
16mm film shot per season: 1000 miles, the distance from Mt. Laurel, NJ to Orlando, FL.
Annual Programming: 600 hours of new original football programming plus hundreds of hours of non-football related programming
Over 500 Players & Coaches have worn an NFL Films microphone during a game
Super Bowl XLII Crew: 132 employees: including 24 cinematography & audio crews
NFL Films has filmed almost every major event in sports: the World Series, the NBA Finals, the Stanley Cup Finals, the USTA U.S. Open, the Kentucky Derby, the Breeders' Cup, Wimbledon, PGA Championship, the Davis Cup and the 24 Hours of Le Mans.
NFL Films Archives – The World's Largest Sports Film Library contains:
Over 100 Million feet of football action stored in over 50,000 cans
1894 Princeton vs. Rutgers – shot by Thomas Edison
1925 Pottsville Maroons
1925 sync sound of the Bears' Red Grange
1934 Earliest color coverage (All-Stars/Giants game)
1937 Green Bay Packers – the first team highlight film
1939 The NFL's first League Season Review highlight film
1972 The Immaculate Reception: Steelers Franco Harris- AFC Playoff Game vs. Oakland
Every Championship Game since 1933, highlights of every game since 1949
AFL game footage from 1960-1969
NFL Films: The Most Honored Filmmaker in Sports
107 Emmys for Cinematography, Writing, Editing, Sound, Sports Series & Specials (40+ Emmys awarded to NFL FILMS President Steve Sabol including the Lifetime Achievement Award in 2003). The first Emmy was won in 1979 for Road To The Super Bowl.
Founder Ed Sabol is a member of the Pro Football Hall of Fame Class of 2011.
Since 1995, NFL Films Presents has won more Emmy awards than any other sports series on television.
Since 1974, Road To The Super Bowl is the longest running and most-honored sports special (35 years, 28 Emmys).
NFL Films has featured a "who's who" of Hollywood stars as narrators, including Burt Lancaster, Charlton Heston, Mel Blanc, Orson Wells, Vincent Price, Martin Sheen, Laurence Fishburne, Alec Baldwin, Bruce Willis, Gene Hackman, Ed Harris and Donald Sutherland.
Feature film credits include: Invincible, Jerry Maguire, Rudy, The Waterboy, Everybody's All-American, Unnecessary Roughness, When Harry Met Sally, Black Sunday, Semi-Tough, Paper Lion, and Brian's Song.
Documentaries: In 2006, NFL Films launched the America's Game series, featuring 40, one-hour documentaries profiling each Super Bowl-winning team. In 2007, the series was awarded an Emmy for "Outstanding Sports Edited Series."
NFL Films was the first to:
hire a woman executive in the NFL (Inez Aimee)
wire coaches & players for sound
use ground-level slow motion
use 600mm lenses in sports cinematography
edit sports films to pop music
use reverse angles replays
produce "Follies" films
score original music for sports films
use graphics to analyze game tactics & strategy
get unrestricted access to NFL Training Camp, most recently featured in the Emmy Award-winning reality/documentary series Hard Knocks
use montage editing in sports
Credit: NFL Films, Tom C. Body, The Pro Football Hall Of Fame, The NFL