ESPN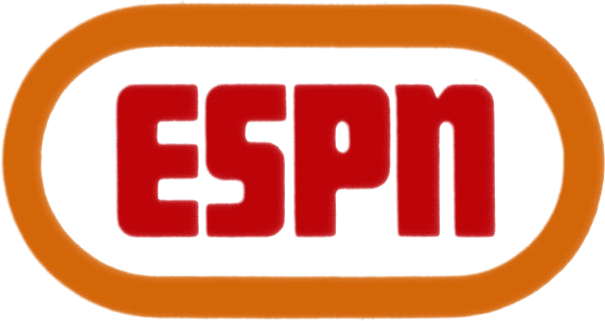 "If you love sports...if you really love sports, you'll think you've died and gone to sports heaven."
-Lee Leonard
ESPN forever changed the world of sports television- from a weekend activity to a 24 hours a day 365 days a year passion.
Every sports fan eagerly awaits when they tune in for those beautiful words "This Is Sports Center".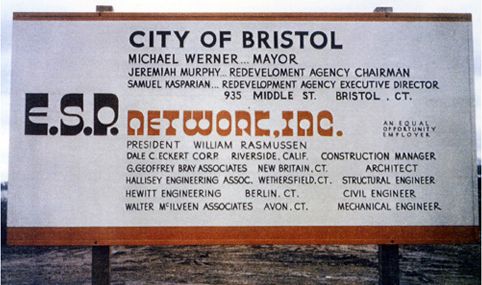 Original ESPN site, Bristol, Connecticut 1979
ESPN, Inc. is a pioneer among basic cable television networks, devoting its entire programming to a single subject: sports. Considered by many to be the most successful basic cable network, ESPN delivered the hard-to-capture audience of young males to a wide range of advertisers. Cable system operators consistently selected ESPN as the number one cable network in perceived value. Today, ESPN, The Worldwide Leader in Sports, reaches more than 100 million US households and is delivered in many languages to countless countries around the world.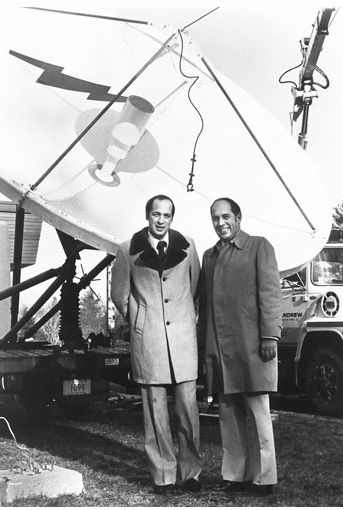 Scott Rasmussen and Bill Rasmussen
ESPN, Inc. was the brainchild of Bill Rasmussen, a sports announcer. ESPN was founded by Bill Rasmussen, his son Scott Rasmussen and Aetna insurance agent Ed Eagan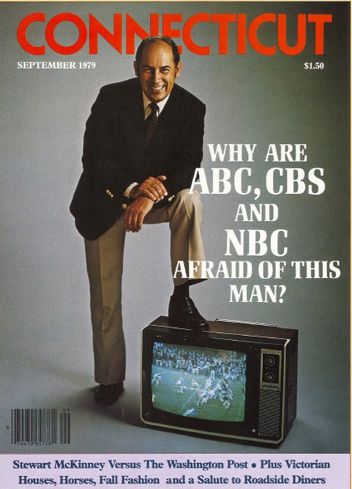 Bill, who had an affinity with sports for much of his life, was fired from his position as the communications manager for the Hartford Whalers in 1978.[ In the spring of 1978 Rasmussen was fired by the New England Whalers of the World Hockey Association as its communications director and play-by-play announcer. He began looking for a way to broadcast University of Connecticut basketball games through cable television operators in the state. At the time, satellite technology was a relatively new way of transmitting programming to cable operators. RCA had an underused satellite on which Rasmussen could lease time. With six of 23 active transponder sites fully available, RCA was eager for customers.
After discovering that it was cheaper to rent satellite time from RCA for 24 hours rather than for five hours, Rasmussen decided to offer 24-hour sports programming on a national basis. RCA offered Rasmussen an easy payment program, so he used his credit card to lease space on RCA's Satcom 1 in July 1978.
He called his company Entertainment Sports Programming Network, Inc., or ESP Network for short. ESP Network was incorporated on July 14, 1978 for a fee of $91. According to company legend, it became ESPN when the company's letterhead came back that way from the printer.
ESPN began broadcasting in September 1979 with limited airtime during the week and 24-hour coverage on the weekends. The company had signed up 625 cable system affiliates, reaching more than one million of a total of 20 million households that had cable at that time.
On September 7 1979 at 7:00 P.M., an estimated 30,000 viewers tuned in to witness the launch of ESPN. Simultaneously, ESPN debuted its first SportsCenter segment with anchors Lee Leonard and George Grande.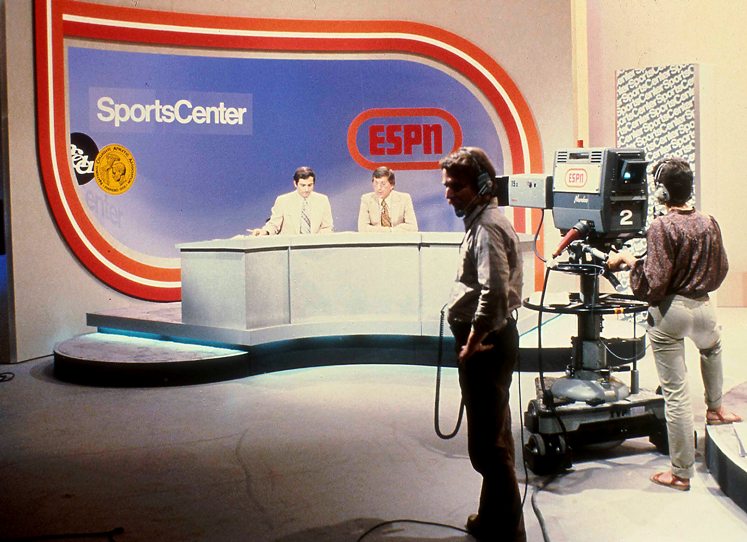 The first words spoken were from Leonard who informed viewers: "If you love sports...if you really love sports, you'll think you've died and gone to sports heaven." The first score Grande announced was Chris Evert's victory over Billie Jean King at the US Open. SportsCenter lasted a half hour consisting mainly of videotaped highlights. Following the conclusion of the telecast the network aired a slow-pitch softball game along with other programming, including wrestling and college soccer
ESPN's first sponsor was Anheuser-Busch, which purchased $1.4 million worth of advertising--a record for cable television.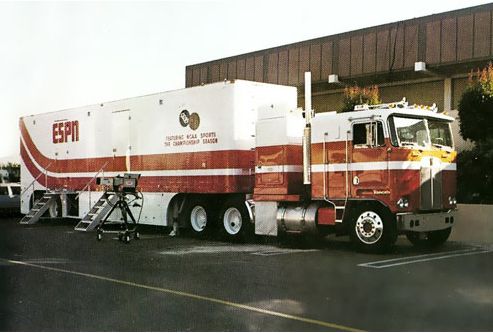 The first ESPN production truck
Through a deal with the NCAA, ESPN broadcast college football games as well as other sports. To fill airtime, ESPN would often broadcast the same games more than once.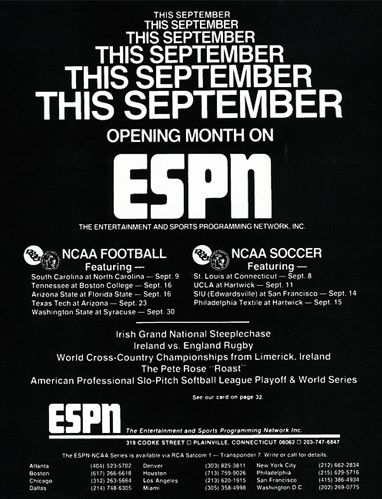 Opening month advertising for ESPN. August 1979, Cable Vision Magazine
In September 1980 ESPN began broadcasting on a full, 24-hour basis. New programming included weekly boxing matches.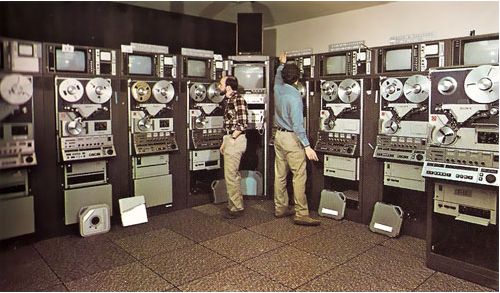 Original ESPN Tape Room. ESPN Plaza Center at Bristol, Connecticut. September 1979
Principal Operating Units: ESPN; ESPN2; ESPN Classic; ESPNews; ESPN HD; ESPN Interactive; ESPN International; ESPN Original Entertainment; ESPN Outdoors; ESPN The Magazine; ESPN Radio; ESPN.com; ESPN ABC Sports Customer Marketing and Sales.
John Colby, a Grammy and Emmy-winning composer, producer, music director and keyboardist, has created theme and background music for virtually every televised sporting event, including two Super Bowls.
As ESPN's music director (1984-1992), Colby helped shape the sound of ESPN in those early years, composing and producing music for hundreds of ESPN sporting events and television programs.
All that said, Colby, 63, is perhaps best known for six simple musical notes he composed in 1989 . . . six notes of an iconic melody heard every day by sports fans around the world — DaDaDa DaDaDa — part of the theme song to SportsCenter.
Sports Center
Sept. 7, 1979 — ESPN launches and the first program aired is the flagship show, SportsCenter, hosted by George Grande and Lee Leonard.

Feb. 6, 1981 — SportsCenter anchor Rhonda Glenn joins ESPN and becomes first full-time woman sportscaster for a national TV network.

Jan. 1982 — SportsCenter provides on-site reports from the Super Bowl for the first time.

Dec. 2, 1988 — The 10,000th episode of SportsCenter airs.

Oct. 10, 1995 — This is SportsCenter, the irreverent, behind-the-scenes, on-air promotional campaign, begins. Roger Clemens, Grant Hill and Micheal Andretti were among the first athletes to visit Bristol to participate in the critically acclaimed campaign.

May 17, 1998 — The 20,000th episode of SportsCenter airs.

Jan. 2000 — The first international edition of SportsCenter, reaching 2.4 million homes in Brazil, launches in Portuguese.

Aug. 25, 2002 — The 25,000th episode of SportsCenter airs.

Sept. 12-17, 2004 — SportsCenter: Salute the Troops, with segments on all editions live from Camp Arifjan Army base in Kuwait, looks at how sports serve as a welcome "touch of home" for U.S. troops abroad.
Jul. 17, 2005 — SportsCenter Across America — 50 States in 50 Days — begins at Fenway Park (Yankees at Red Sox), ending Sept. 5 in Washington, D.C.

Feb. 11, 2007 — The 30,000th episode of SportsCenter airs.

Aug. 11, 2008 — SportsCenter debuts live weekday morning editions, 9 a.m. – 3 p.m. ET.

April 6, 2009 — ESPN's Los Angeles Production Center debuts as the new home of the weekday 1 a.m. ET (10 p.m. PT) SportsCenter.

SportsCenter by the Numbers

50 — Average seconds of a SportsCenter highlight

Approximately 50 people work on SC show, on average, per show.

The day SportsCenter debuted: Tiger Woods and Peyton Manning were 3, Brian Urlacher was 1, and neither Williams sister, Venus nor Serena, was born.

The first score reported on SportsCenter was Chris Evert Lloyd defeating Billie Jean King 6-1, 6-0 in the 1979 US Open women's semifinals.

Among the shows that aired the evening of SportsCenter's first show at 7 p.m. were ABC's Evening News with Frank Reynolds, The Dating Game, The Odd Couple, Over Easy with Hugh Downs and The Brady Bunch (the episode where Carol's nephew Oliver comes to stay with the Bradys).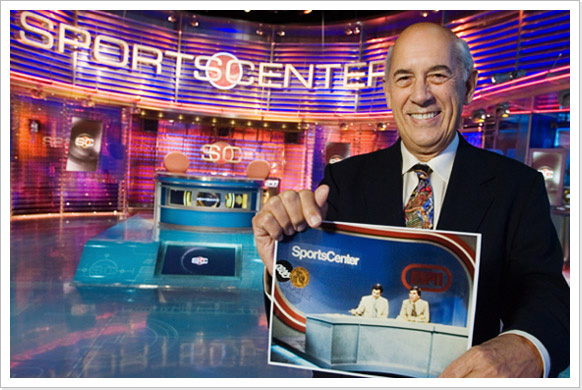 Bill Rasmussen
Credit: ESPN, Bill Rasmussen