Howard Cosell
born Howard William Cohen (March 25, 1918 – April 23, 1995)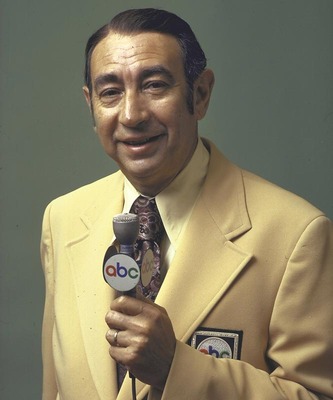 "I tell it like it is."
"Sports is human life in microcosm."
"Sports is the toy department of human life."
"What's right isn't always popular. What's popular isn't always right."
"The ultimate victory in competition is derived from the inner satisfaction of knowing that you have done your best and that you have gotten the most out of what you had to give. "
Howard Cosell, was one of the first network television sports announcers to, in his own words,to "tell it like it is".
His way with words and ability of telling like it was, brought him fame not only in America, but all over the world. Perhaps, no one will ever forget the memorable moments that he and Muhammad Ali created.
After studying English literature and graduating Phi Beta Kappa from New York University, he got his law degree from NYU, edited the school's law review, and was admitted to the New York state bar in 1941 at the age of 23.
Cosell became a major in the U.S. Army Transportation Corps during World War II. Cosell and Mary Edith "Emmy" Abrams, were married in 1944 while he was in the service. She died in 1990.
After the war, he opened a law office in Manhattan. Cosell counted among his clients several actors -- he'd spent time in college on the stage himself working summer stock productions -- and athletes, including Willie Mays. He also represented the Little League of New York, a connection that got him his first job in broadcasting.
That came in 1953, when an ABC program manager asked him to host a Saturday morning radio show that featured Little Leaguers asking questions of major leaguers. Cosell jumped at the chance. He did the show for three years without pay, but finally abandoned what had become an unsatisfying career in law to work full-time in broadcasting in 1956.
Cosell handled a wide variety of assignments for ABC, but was particularly renowned for his work as a boxing announcer and on "Monday Night Football".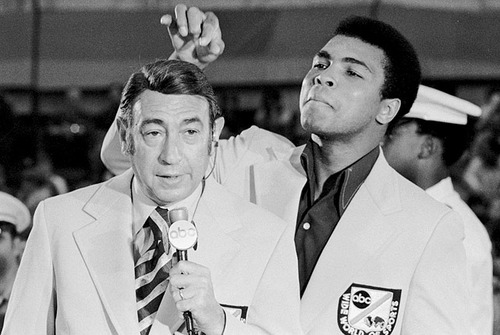 He defended Muhammed Ali after the New York State Boxing Commission stripped Ali of his title in 1967, when the boxer claimed conscientious objector status for the draft. "What the government did to this man was inhuman and illegal under the Fifth and Fourteenth amendments," Cosell said. "Nobody says a damned word about the professional football players who dodged the draft. But Muhammad was different; he was black and he was boastful." ABC was deluged with hate mail and telephone calls, including several threats on his life.
Cosell also was a member of ABC's pioneering Olympic coverage in 1968 at the Mexico City Summer Games, he once again was the focus of outrage among some viewers for his generally sympathetic interview of sprinter Tommie Smith. Smith's "black power" gesture of a clenched fist on the victory stand, along with teammate John Carlos, resulted in their being sent home by the U.S. Olympic Committee.
In 1970, ABC executive producer for sports Roone Arledge hired Cosell to be a commentator for Monday Night Football, the first time in 15 years that American football was broadcast weekly in prime time. It was destination TV for the entire country.
The Halftime Highlights were eagerly awaited for each week.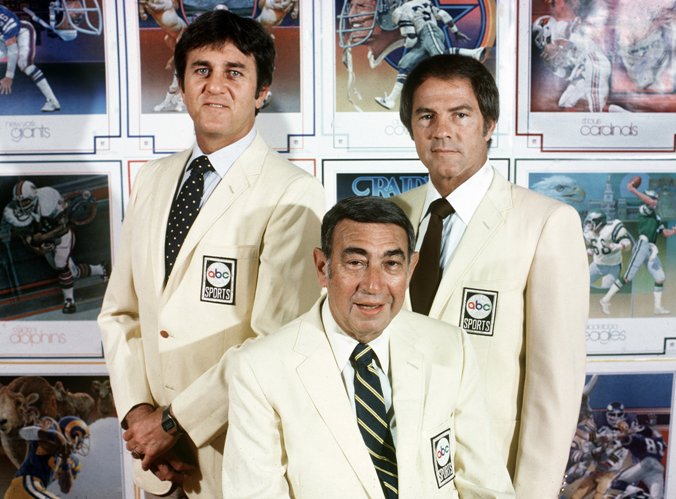 "Dandy" Don Meredith, Howard Cosell and Frank Gifford
A poll conducted by TV Guide in the late '70s determined that the most-despised sportscaster in America was Howard Cosell. The same poll concluded that the most-beloved sportscaster in America was Howard Cosell.
In 1993, TV Guide named Howard Cosell The All-Time Best Sportscaster in its issue Celebrating 40 years of television. Sports illustrated ranks him as the number 9 All-Time Best Sportscaster. Howard Cosell was a great man as well as a great broadcaster.