Police open criminal investigation after HS football player rips helmet off opponent and beats him with it

Hamburg quarterback Joey Cominsky is seen on video aired by WGAL-TV ripping the helmet off Annville-Cleona lineman Josh Hartman, then hitting him with it at least twice. Cominsky and another player were ejected from the game

Johnny Manziel Suspended For First Half Of Texas A&M vs. Rice For 'Inadvertent' NCAA Rule Violation

COLLEGE STATION, Texas—Texas A&M University and the NCAA confirmed today that there is no evidence that quarterback Johnny Manziel received money in exchange for autographs, based on currently available information and statements by Manziel. Due to an inadvertent violation regarding the signing of certain autographs, Texas A&M declared Manziel ineligible and submitted the following conditions for reinstatement to the NCAA:

• A one-half game suspension for Manziel

• Manziel will address the team regarding the situation and lessons learned

• Texas A&M will revise its future education concerning student-athlete autographs for individuals with multiple items

Based on the information submitted by the university, the NCAA accepted the conditions as put forward by Texas A&M. If additional information comes to light, the NCAA will review and consider if further action is appropriate. NCAA rules are clear that student-athletes may not accept money for items they sign and based on information provided by Manziel, that did not happen in this case.

Statement from Texas A&M University System Chancellor, John Sharp:

"I am proud of the way both Coach Sumlin and Johnny handled this situation, with integrity and honesty. We all take the Aggie Code of Honor very seriously and there is no evidence that either the university or Johnny violated that code."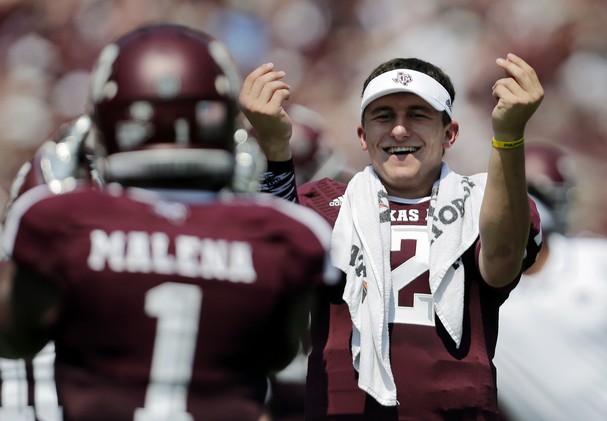 Johnny Manziel was miming the signing of an autograph and rubbing his fingers together to indicate money several times during the game vs. Rice On August 30. He received an unsportsman like conduct penalty and was benched for taunting Rice Defenders.
Maybe The NCAA should have checked Ebay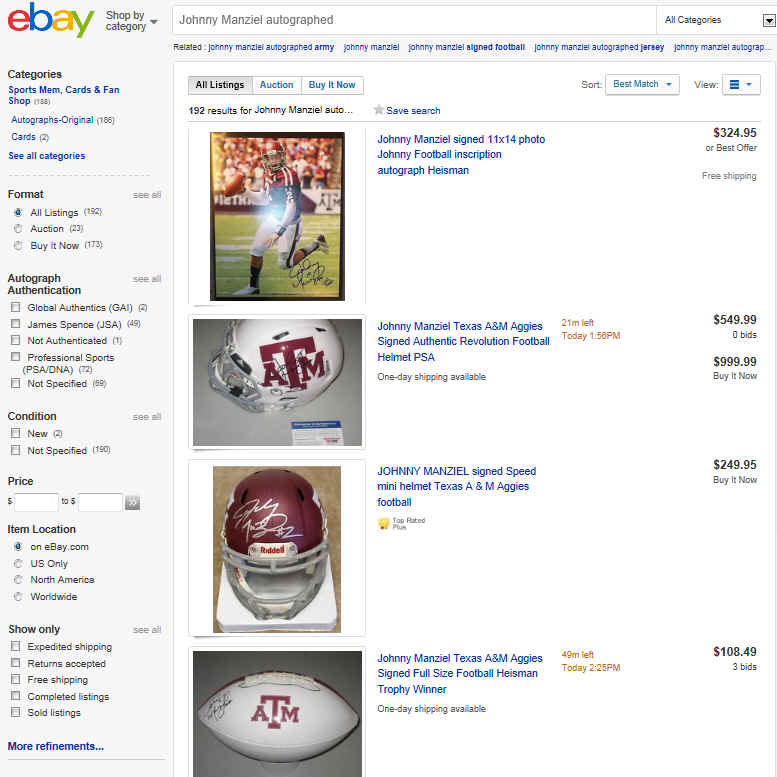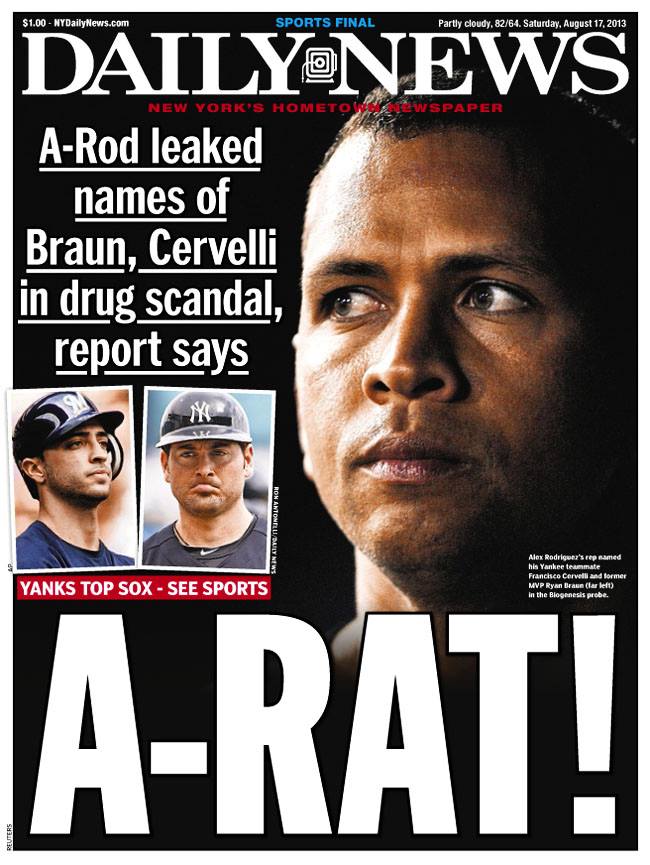 http://www.nydailynews.com/sports/i-team/snitch-hitter-a-rod-reps-leaked-names-media-report-article-1.1428701
Drunk Racist?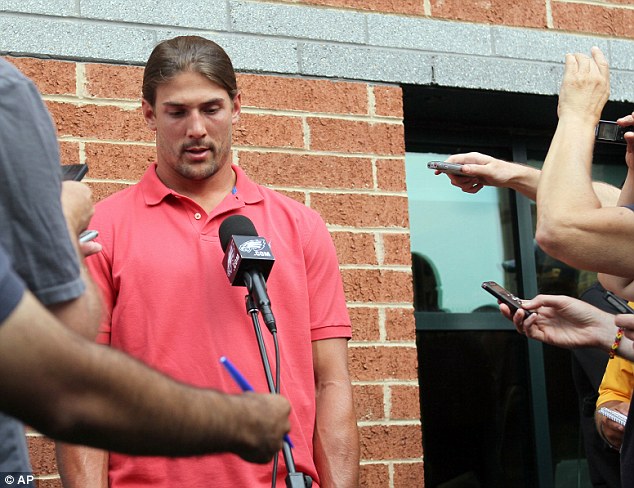 Saying he was ''ashamed and disgusted'' with himself, Eagles wide receiver Riley Cooper apologized repeatedly for making a racial slur at a Kenny Chesney concert that was caught on video and led to him getting fined.
Usually when people are drunk their real character or lack there of comes out.
Aaron Hernandez appears to be holding pistol in new documents released by Attleboro District Court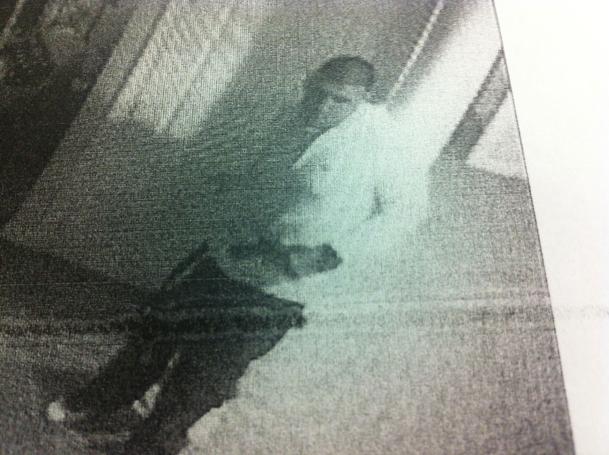 Aaron Hernandez was charged with murdering his friend after the two had a dispute during a trip to a nightclub. Hernandez was arrested y and charged with the first-degree murder of 27-year-old Odin Lloyd, a semi-pro football player whose body was found in an industrial park about a mile from the former New England Patriots tight end's home.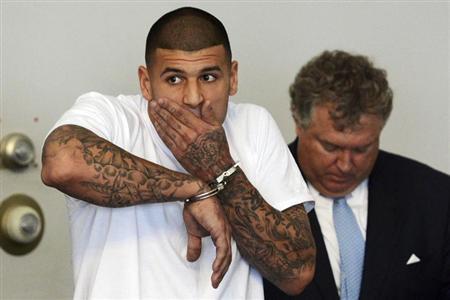 NFL Players "Just Keepin It Real"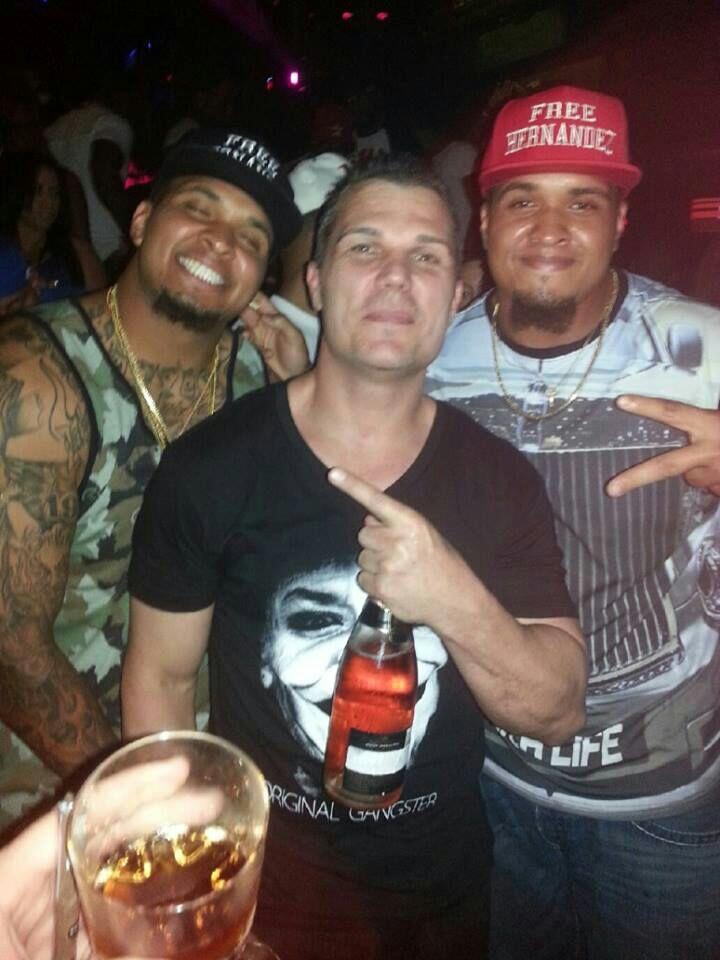 Maurkice and Mike Pouncey wear 'Free Hernandez' hats in support of Aaron Hernandez The Pounceys, who played with Hernandez at Florida, were previously linked to Hernandez in a 2007 report from the Gainesville (Fla.) Police Department regarding a double shooting that police wanted to question Hernandez about. Mike Pouncey is a center for the Steelers while Maurkice plays center for the Dolphins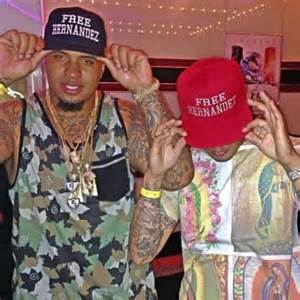 Ryan Braun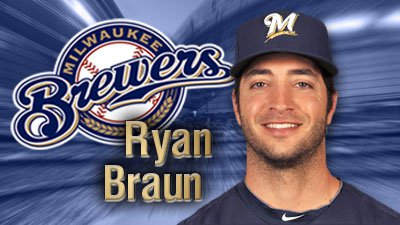 Major League Baseball has suspended Milwaukee Brewers slugger Ryan Braun without pay for the remainder of the 2013 season.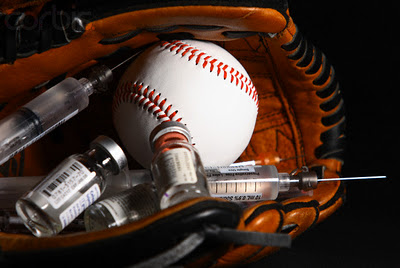 Braun will not contest the suspension, which was meted out for "violations of the Basic Agreement and its Joint Drug Prevention and Treatment Program," according to a statement released by MLB. He has denied using Performance Enhancing Drugs for years.....
What's the deal with Mets fans booing at the All-Star Game?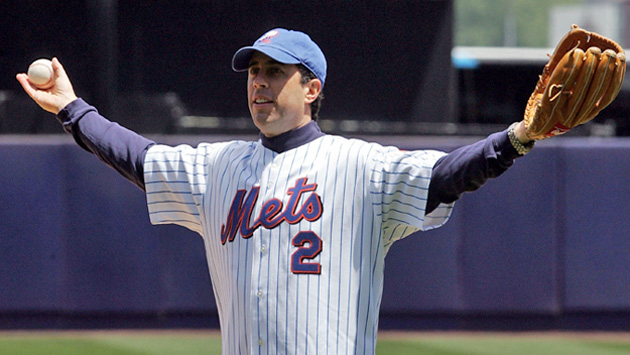 Jerry Seinfeld really wants to know. The comedian/actor ripped those at Citi Field who booed baseball's best. "This is one of the lowest moments of my lifetime of Mets fandom, when the Citi Field crowd was booing [players] that they see as rivals to their Mets team," Seinfeld said in a WFAN interview Wednesday night. "I was in shock. I was embarrassed. I thought it was horrible manners." Seinfeld, who owns a box at Citi Field and is a lifelong Mets fan, thinks the top players deserve more respect than they received. "These are the best players, in the game you love, that have come here to put on a show for you, and we're booing them like 5-year-olds," Seinfeld said. "As if there's some sort of real animosity." "The American League is not the Taliban," he added. "[Why] are we booing Miguel Cabrera? ... So I was very embarrassed by that."
Nike..........Really???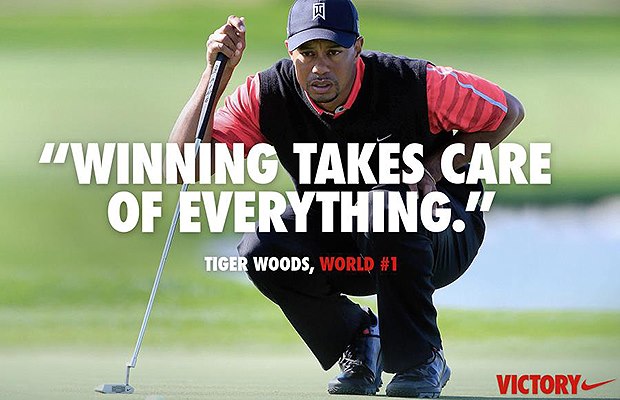 Just another reason to "love" The Kardashians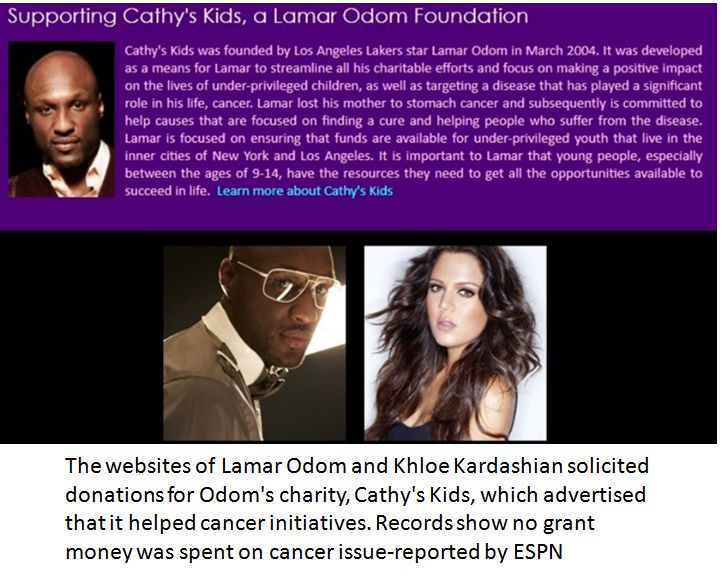 #alovelycouple
In comments recorded by Sean Gregory of Time on the day Tiger Woods held his press conference for his 2009 sex scandal, Lindsey Vonn poked fun at his sex addiction and joked about how she wanted to parody him on Saturday Night Live.
The jokes made headlines, both because of their content and their timing. Vonn was in the middle of her star turn at the 2010 Olympics when Tiger made his apology.
From Time.com on Feb. 19, 2010:
And like millions of Americans, Vonn can't help poking fun at Woods' staged event. When a member of her Vonn-tourage tells her that Woods gave a few friends hugs after ending his statement, she cracks, "They're like, 'Yeah, you're awesome, you go have that sex.' " The room breaks into a laugh. Then she describes a skit she would want to perform if asked to host Saturday Night Live: picture Vonn at Woods' podium, blue backdrop and all. "There's something you don't know about me," Vonn says in a faux solemn, apologetic voice. "Tiger, you're like my idol, and I too have a sex problem." More laughter. "That would be freaking funny." The article described the reigning World Cup downhill women's skiing champion as "ingratiatingly anti-Woods":
Now they are dating................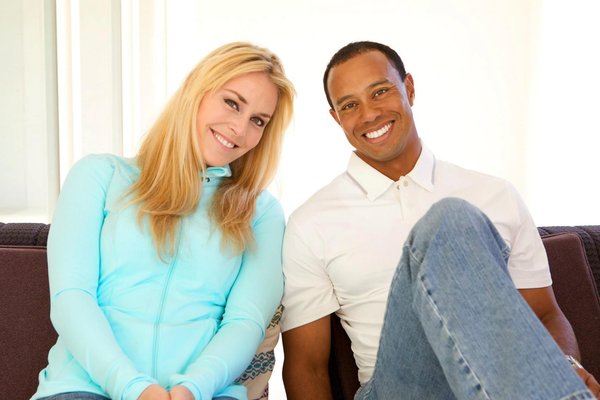 Lindsey Welcome To the Club...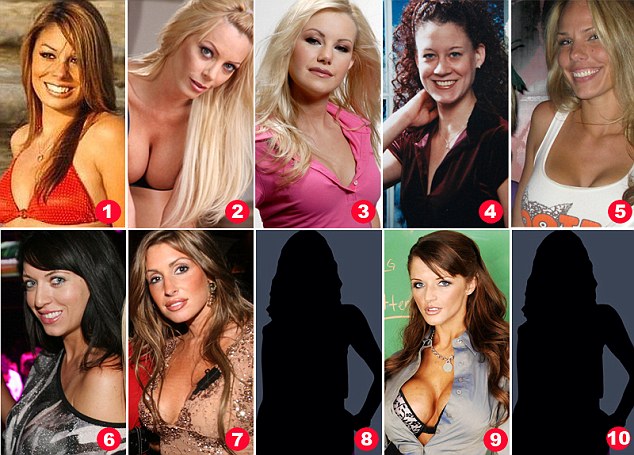 Porn Stars, Strippers, Escorts, Waitresses and now a Skier!
And Remember..... A Tiger Never Changes It's Stripes.........
Dennis Rodman and North Korea leader Kim Jong-un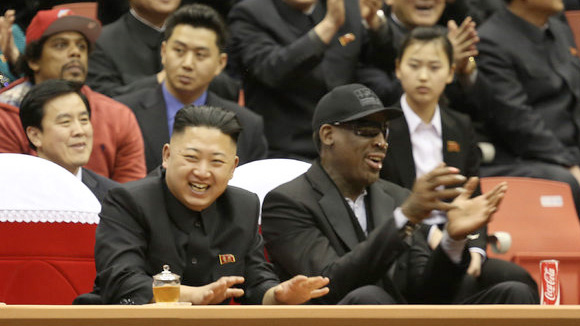 "Crazy and Crazier"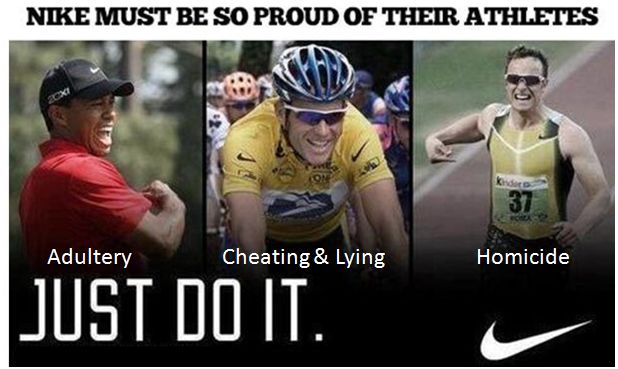 Kate...........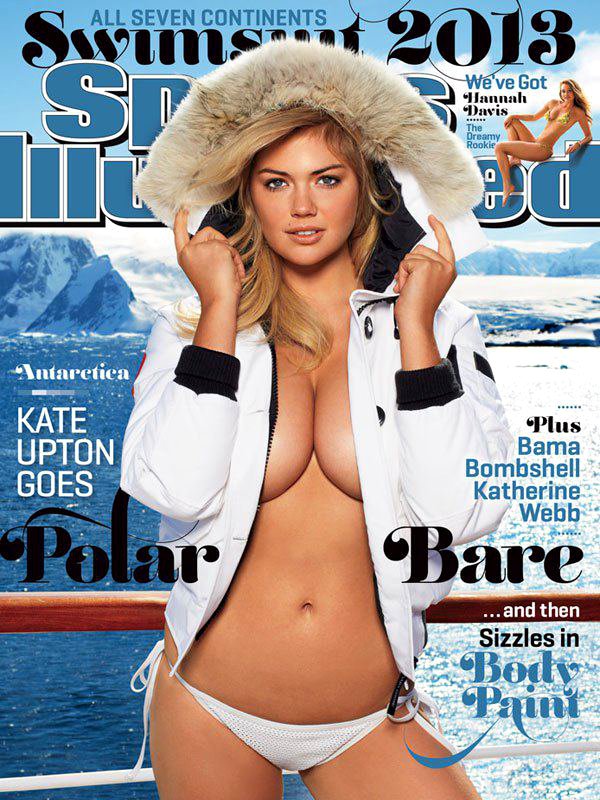 Howard "Howie" Roseman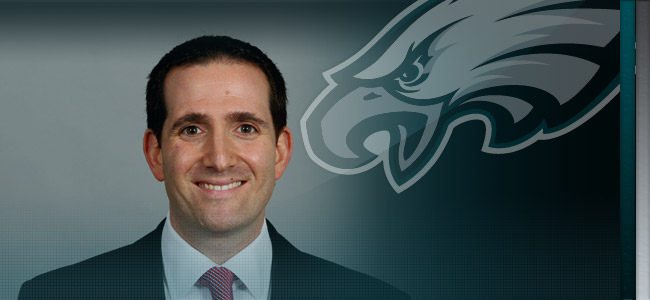 A Life's Obsession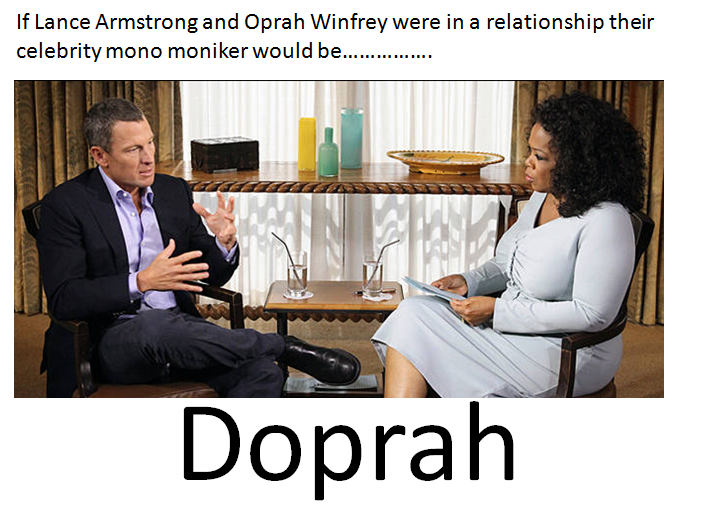 The Philadelphia Eagle "Relieve" Andy Reid of His Coaching Duties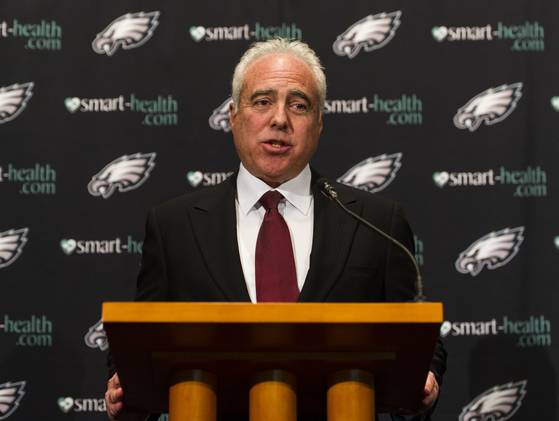 December 31, 2012
"Andy Reid won the most games of any head coach in Eagles history and he is someone I respect greatly and will remain friends with for many years to come," said Jeff Lurie. "But, it is time for the Eagles to move in a new direction. Coach Reid leaves us with a winning tradition that we can build upon. And we are very excited about the future."
"Free Big Macs courtesy of Doug Collins"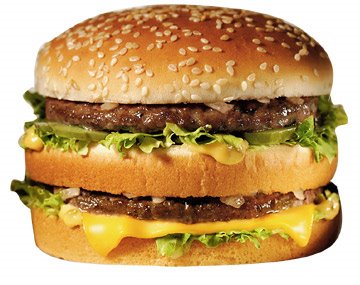 At the Wells Fargo Center in Philadelphia, every Sixers fan in attendance receives a free hamburger if the home team scores more than 100 points. On Friday night, the 76ers had possession of the ball with a 99-80 lead and 23.7 seconds to play.
But as Philadelphia in bounded the ball, you can see Doug Collins telling Evan Turner to slow it down and run out the clock. Fans were chanting "Big Mac"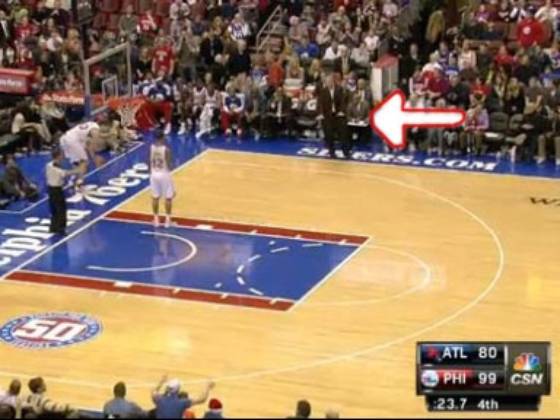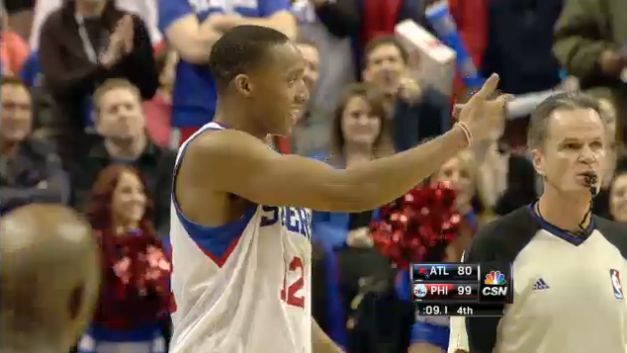 Evan Turner pointing to Doug Collins as the fans were yelling for him to shoot the ball. Fans started booing as the clock winded down.No more shots were attempted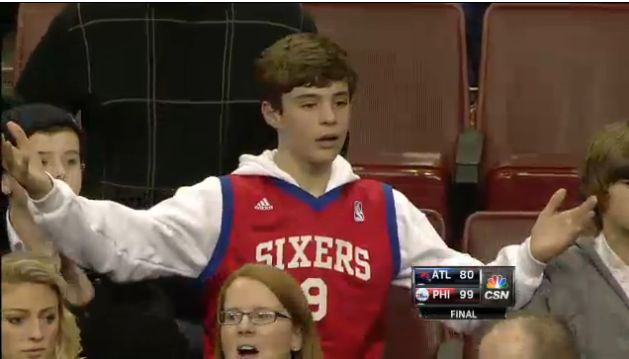 A very disappointed fan - who soon would be headed to McDonalds after all-As the time ticked off the clock this announcement came over the PA system: "Free Big Macs courtesy of Doug Collins." All the reports say that the coach is going to "pay" for the Big Macs- we seriously doubt it will cost him a single penny.....
Brian Urlacher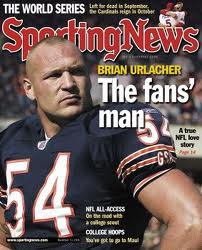 Two of the people I don't care about: fans or media," Urlacher said. "They can say what they want to about our head coach, about our players. It does bother me. They don't know what they're talking about, obviously."
"The boos were really loud, which is always nice," said Urlacher.
"The only team in our division that gets booed at home is us. ... It's unbelievable to me."
Butt Fumble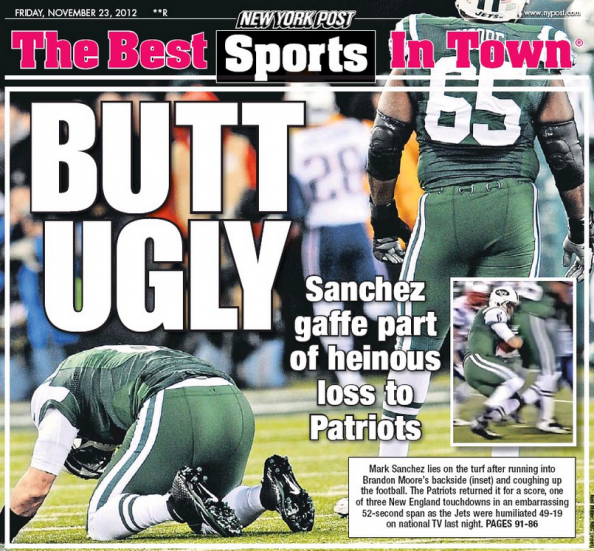 Jeffrey Lurie as "Richie Rich"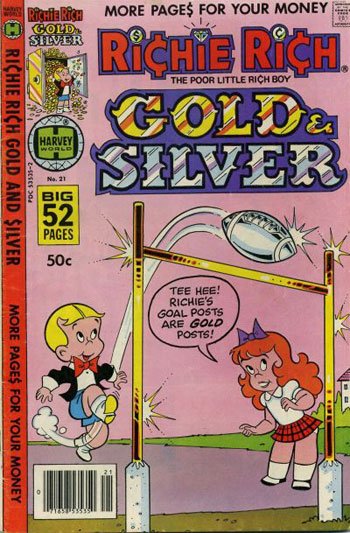 Coming to a theater near you-the story of a little rich kid who uses his family wealth to buy an NFL team that breaks the hearts of it's fans for over 18 years as they line his pockets with cash.
Jeffrey Lurie as "Richie Rich"
Kansas City Chiefs contribute to fan's passing away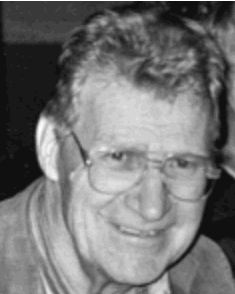 Loren G. "Sam" Lickteig passed away on Nov. 14, 2012 of complications from MS and heartbreaking disappointment caused by the Kansas City Chiefs football team.
A celebration of life is set for Tuesday, Nov. 20 at 11 a.m. at Coronation of Our Lady Catholic Church, 13000 Bennington Avenue, Grandview, MO, with a luncheon following in the church hall. Sam was born on Feb. 1, 1931 in Ottawa, KS, to Laura and Frank Lickteig. He graduated from Redemptorist High School. He served in the U.S. Air Force and attended the Kansas City Art Institute and Missouri School of Mines in Rolla, MO. He married Mary Joan (Hoey) Lickteig in 1956. They soon made their home in Grandview, with their five children, where they lived for over 30 years. Sam volunteered 20 years to the city of Grandview serving as City Councilman, Planning Commissioner, President of Chamber, Steering Committee and the Chairman for St. Joseph Hospital in the 1970s. He was a Real Estate broker and Appraiser. Sam was preceded in death by the love of his life, Joan Lickteig, in July of 2012, his son, Matt 'Mickey' Lickteig in 1999, his parents, and his brothers Bob and Frank. Survivors are his children, Diana (Ron) Hennessey, Jennifer Lickteig, Amy (Brad) Turner, Jake (Missy) Lickteig; daughter-in-law, Laura (David) Cooper; his grandchildren, Kristen Hennessey, Katie (Daniel) Ottone, Rick Morales and Fallon Madrigal, Greg and Rob Lickteig, Zack and Madi Turner, Lucy, Gracie and Charlie Lickteig; great- grandchildren, Lola and Zoey Morales; his four siblings, Don Lickteig, Dee Airola, LaVerne Heider Harlow and LaVone O'Donnell; and numerous relatives and friends. Cremation. In lieu of flowers, the family suggests memorial contributions to the MS Society
.
Published in Kansas City Star on November 18, 2012

"I would have booed us, too"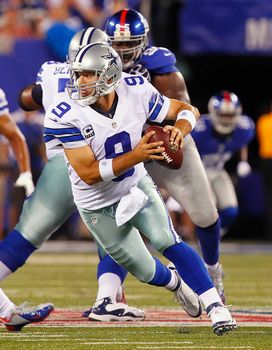 9 Touchdowns /13 Interceptions
3 Wins 5 Losses
Wow... you can buy an autographed picture of Tony for only $99.00 on his official website!
Shipping and handling only adds another $19.99!!!!!
In 2007, Romo signed a six-year extension worth $67.4 million with $30 million guaranteed
"I'd boo us too, … It was a boo-worthy performance"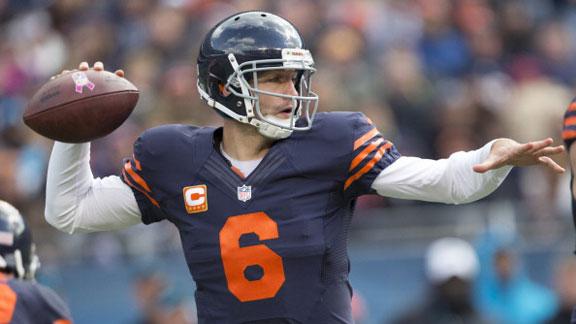 "I don't really recall that moment."
Jay Cutler's response to be asked about mouthing some interesting words at the fans after the first half against the Panthers
Powered By
| | | |
| --- | --- | --- |
| Beer & Hot Dogs | Pride | ?????????????? |