COLTS PLAYERS TAKE TO BARBERSHOP CHAIR TO SHOW SUPPORT FOR COACH PAGANO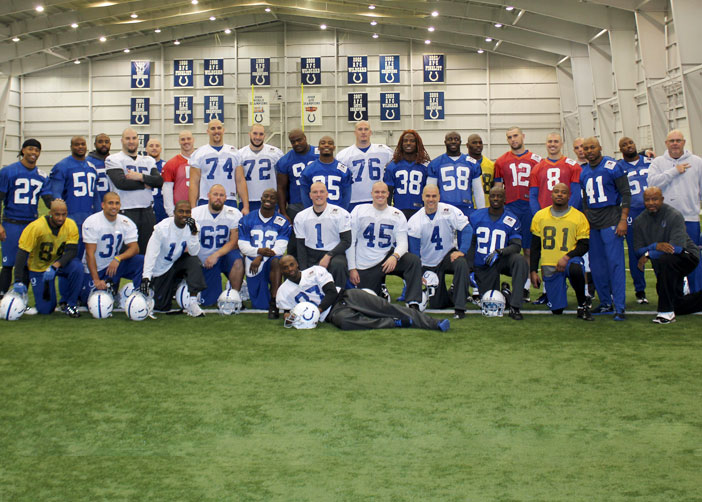 In support of head coach Chuck Pagano, Colts players and several staff members took to the barber chair on Tuesday evening to shave their heads.

A trio of local barbers visited the Indiana Farm Bureau Football Center on Tuesday to help the players show off their new look.

"It's all for a good cause," running back Donald Brown said. "It's to show support for our coach and let him know that we are behind him and we are pulling for him. We are always thinking about him."

The idea was spear headed by veterans Cory Redding, Reggie Wayne and Adam Vinatieri.

While Redding and Wayne hardly had much to cut off, safety Antoine Bethea, offensive tackle Anthony Castonzo (pictured), quarterback Andrew Luck and punter Pat McAfee were among the many players who got rid of their 'locks.'

As the players wrapped up practice on Tuesday and headed back into the facility, they noticed the barbershop chairs just outside the locker room and little coaxing was needed for why they were getting in the chair.

"Even the guys with longer hair we're excited because it's for Coach," Brown said.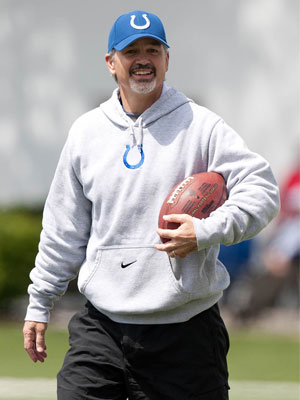 This is Chuck Pagano's first season with the Colts and 11th year in the NFL after being named head coach on January 25, 2012. Pagano brings a wealth of coaching experience, totaling 28 years in the professional and collegiate ranks.
Pagano was diagnosed with a form of leukemia on Sept. 26. Pagano spent most of the next month in an Indianapolis hospital, watching two Colts games from his room. On Oct. 21, he returned home where he watched the next two Indy games. Doctors wanted to keep him in primarily sterile environments to avoid any risk of infection. On Sunday, Pagano cleared yet another hurdle when doctors allowed him to attend the Miami game in person. He watched the Colts win their third straight, 23-20, from the coaches' box and provided inspirational messages to players before and after the game.
Dr. Larry Cripe, Pagano's physician, has stated that the illness which has sidelined Indy's head coach was in "complete remission."
Credit: Kevin Bowen Indianapolis Colts